If you're heaving into gaming and follow a few gaming blogs, then I'm sure by now you've heard the amazing news from this weekend's PSX 2016 panel with Naughty Dog that they're finally going to make a sequel to The Last of Us. However, it's not just a sequel, but part two!
If you've played the first game you know that the ending leaves a lot of questions to the player. Questions such as "Why was Joel so selfish?" and "Will he ever tell Ellie the truth about what he did?" It feels so open-ended with so little closure. Ellie is very upset, asking Joel for the truth about the Fireflies not being able to find a cure and Joel outright lies to her face claiming it's the truth and then it cuts to the credits. Cliffhanger!!!
Naughty Dog says the following about the development of The Last of Us Part II:
"I can't tell you how satisfying it is to finally be able to say that Ellie and Joel are back for another intense, harrowing, and emotional adventure. Like many of you, we have a deep love for the world of The Last of Us and its characters, and while a sequel may have seemed like a foregone conclusion, that wasn't the case. We knew that it needed to be a story worth telling and, perhaps more importantly, a story worthy of Joel and Ellie. After spending years on different ideas (and almost giving up), we finally uncovered a story that felt special—a story that evolved into an epic journey."
A lot of people commenting on all of these news posts are posting negative things about how the sequel will not be good, or why ruin a good thing! Naughty Dog has mentioned the following at their PSX16 panel:
"With regard to worries that a sequel could somehow risk degrading the integrity of the original's ambiguous ending, Druckmann said, "You have to understand that no one loves these characters more than we do, and we would not do this if we didn't feel like we didn't have the right idea."

"All I ask is that fans of the first one put some faith in us, trust we're going to do right by them." he continued. Druckmann also shared some concept art for TLOU2, and confirmed that Gustavo Santaolalla would be returning to score the new game.
I know personally that I have a huge amount of faith in the developers of Naughty Dog to deliver the best video game / story they can create that will follow in its predecessor's footsteps as well as pave the way for amazing story telling via video games.
Too many times I see developers create games with huge, open worlds. They think the bigger it is, the better it'll be. But in my opinion, I would rather play a shorter game (between 6 – 30 hours) that is linear but tells an amazing story! I'm all about the story when it comes to video games. I find those open world games are too jam-packed with little itty bitty side quests, trying to make up for an average story (or none at all). Well I'm stoked that Naughty Dog isn't about making open world games, and I hope it stays like that. I love their games as they are.
Going back to The Last of Us Part II, is anyone else glad that Gustavo Santaolalla is returning to score the new game?? I feel that his score really helps solidify the story. If you haven't had a chance to listen to the full TLOU soundtrack, here it is:
Neil Druckmann is saying that Part II is about 'hate'. Druckmann explains the following:
"If the first game was really about the love between these two characters, this story is the counter of that," Druckmann explained early on. "This is story is about hate, through Ellie this time. The first game you play as Joel, this game you play as Ellie."

Ellie is now 19, and the years spent surviving the collapse of civilization have taken their toll. "She's gone through some shit," Johnson said later during the discussion.
Ellie is on a rampage to kill who? All the infected? The Fireflies? It leaves a lot of questions that we're all asking, but that doesn't matter. When Naughty Dog is ready, the answers will be given to us. And they will be granted via their new performance capture technology as seen in the gif below.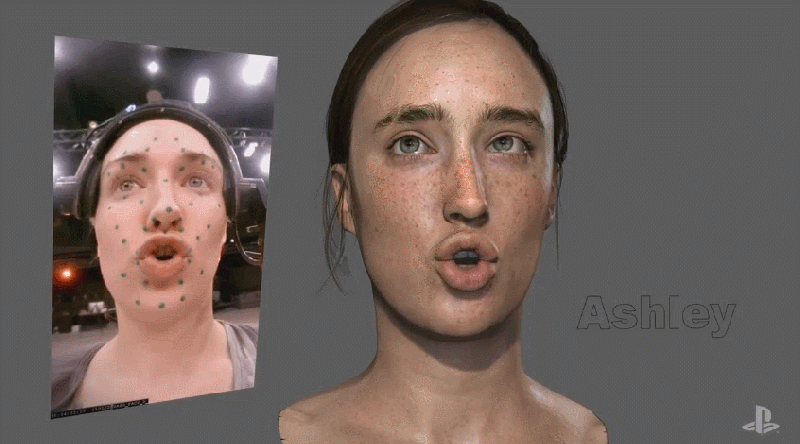 This new tech really adds to the game and makes you feel like you're actually playing real people! I work full time as a video game tester so it's nice to play a game where they use this kind of tech to capture facial movements, lip syncing and movements is being used. Nothing makes a game more horrible than horribly lip synching, or flat characters with no freaking personality. I know for a fact that Naughty Dog's used tech similar to this for their first game, so it makes sense to build upon it and make it more realistic. 🙂
Check out the panel at PSX2016!! Get the latest news about the game (trailer is included in this video 🙂
One last thing! A friend of mine shared with me some IMGUR celebratory comics in regards to The Last of Us Part II being announced, and here's the link but I'm posting my ultimate favorites that I find funny. If you've played the game you'll see why they're so funny. 😀
And then this one:
For those who might not know about this, Dark Horse has The Last of Us comics you can buy. Tells the story of Ellie in boarding school and how she met her bestie, Riley.
https://www.darkhorse.com/Books/22-396/The-Last-of-Us-American-Dreams-TPB
Well I hope you enjoyed this rather long post! If you haven't played The Last of Us yet, I highly recommend it because The Last of Us Part II probably won't be out until December 2018 or very early 2019. Still two years away.
And comments about the game or if you want to start a discussion are always welcome! 😀
Cheers!
Bitchin' Gamer Grl